Jeremy Grossenbacher aims to put Coopersville on the map.
Nearly a year ago, Groosenbacher opened Coopersville Brewing Co., the first craft brewery in this small farming community in Ottawa County. Located near a roundabout just off Interstate 96, the brewery fills a void along the "beer trail" between Grand Rapids – Michigan's beer town – and the seaside resort towns of the Lake.
A craft brewery is a draw, sure, but for Grossenbacher, who grew up in Coopersville, creating a sense of community and cultivating civic pride is at the heart of what she does.
"It's not a new idea that a small town in a rural community could sustain a brewery these days," says Grossenbacher, who became passionate about craft beer while living in Chicago for a decade. "There's only one other brewery along the stretch from Grand Rapids to the lake – in Allendale – that means there's a really big market for another brewery."
For many, Coopersville has been just a fuel stop along the busy highway. The city's main business district — a main street lined with turn-of-the-century brick buildings — is about a mile from the freeway exit. Much of the nearly 5 square mile community land – about 20 miles east of Grand Rapids – remains in agricultural use.
"I was discouraged that people didn't know where Coopersville was. If you mention the dump, people know where Coopersville is," said Grossenbacher, 37, referring to the dump visible from Interstate 96 south of town. "It's a shame to be known only for something superficial."
Coopersville Brewing Co. is changing that reputation, if only one beer at a time.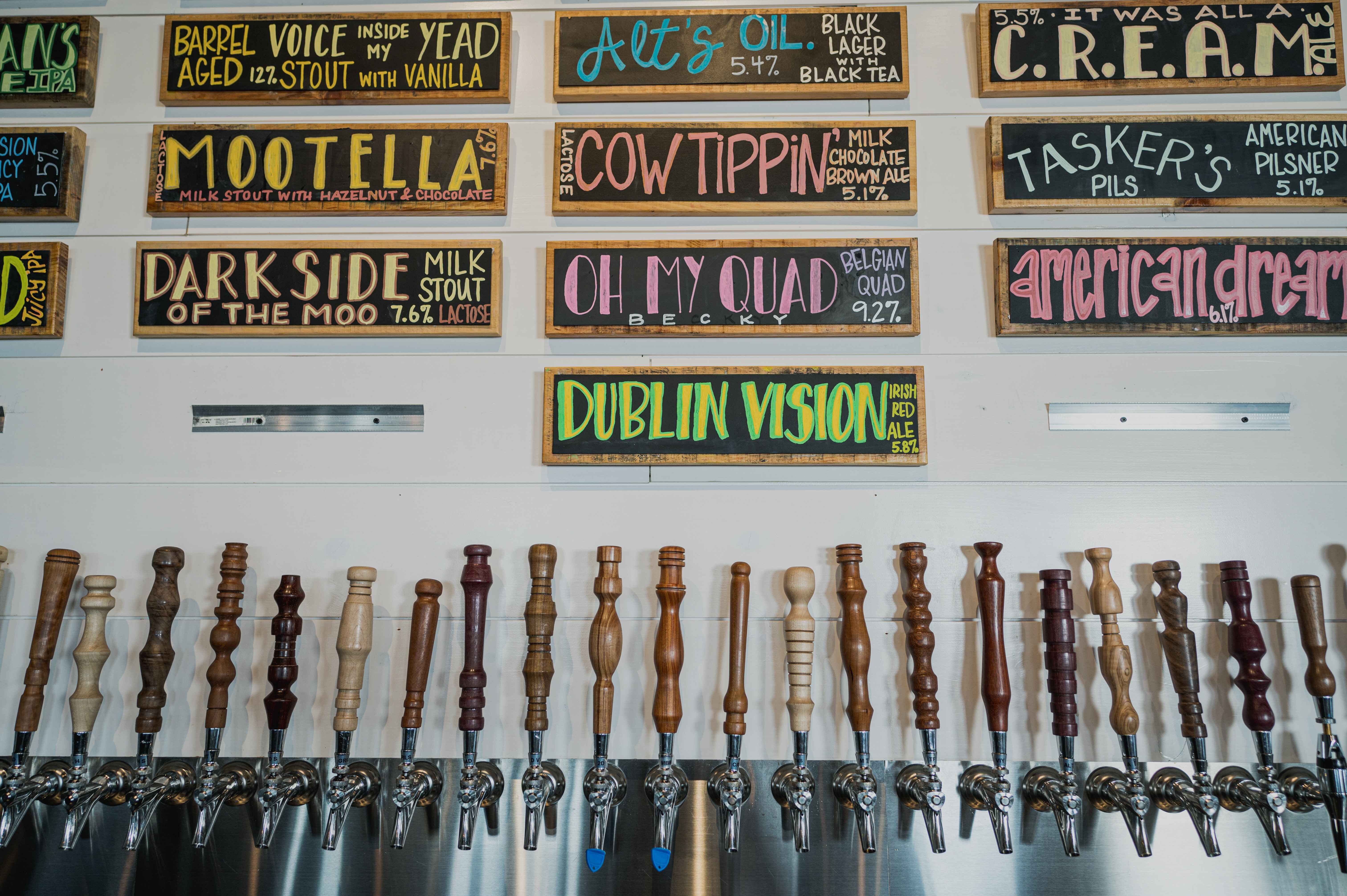 Many beers are named after local landmarks or businesses."There really is nothing like the brewery in Coopersville," says Kate Terpstra, marketing and economic development for the Coopersville Downtown Development Authority. "He definitely creates a new sense of place, using the brewery to create a sense of community and working with the DDA. It really is a community brewery. One of our main goals at DDA is to create a sense of place here, because there is so much more than what you see just off the highway.
Brewery
Coopersville Brewing Co. describes itself as a farm-raised, city-inspired brewery, referencing Grossenbacher's local roots and his professional years in Chicago.
Housed in a former laundromat, the brewery's interior pays homage to the local farming community, with an open contemporary barn feel. The paneling is made from pallets from a local company and has been painted to reflect the colors of the brewery logo. The reused interior beams are between 150 and 200 years old and come from local barns. The wooden tables are handmade and bear the name of a sponsoring company. Pictures on the walls show Coopersville in the past and present. Front and side windows provide plenty of natural light.
The photographs pay homage to Coopersville's past.Grossenbacher, his business partner, Jim Goodburn, and the management team embrace a mix of down-to-earth values, roll up your sleeves with the eclectic and experimental energy of Chicago – something Coopersville, home to just 5,000 people , has not experienced before.
From the beginning, Coopersville Brewing Co. opened its doors to the community. The 10,000 square foot facility regularly hosts live music, comedy shows, quiz nights and yoga. The high school sports teams held annual banquets in the dining hall, and Santa Claus showed up during the holidays.
"They really thought about every little thing," says Coopersville Mayor Duane Young, who has frequented the brewery several times with his wife, family and friends. "We were really impressed with the place. They are very connected to the community and there has been a lot of buzz about them on social media.
Like others, Young thinks there are misconceptions about Coopersville. "Most outsiders here think we live on a dump, but we have a beautiful downtown area and a lot of history here," he says. "We try to work hard to let people know what we have here."
The draft beer selection includes many styles. They include pilsners, IPAs, lagers, Belgian weisse and others. As a nod to the community, some beers are named after local institutions or landmarks. Tasker's Pils, for example, is a pilsner named after Tasker's Drug Store, a mainstay in the community since 1917. Alt's Oil, a dark beer, was inspired by Alt Oil Co., a fuel supplier for local businesses. Another Man's Treasure pays homage to, you guessed it, landfill.
"We use local names or references when it makes sense and it's fun," he says, also adding lighter beers, because not everyone likes craft beer. "We attract a lot of non-craft beer enthusiasts. It's good to have diversity, a bit of everything.
Besides being a beer lover, Grossenbacher admits he had no brewing experience before opening the business. Goodburn is the brewer and spent two and a half years at Grand Armory Brewery Company in Grand Haven before joining Coopersville. The pair brought in Sean Sorensen, a former roommate of Grossenbacher's as general manager. Sorensen has spent over two decades in the restaurant and hospitality industry.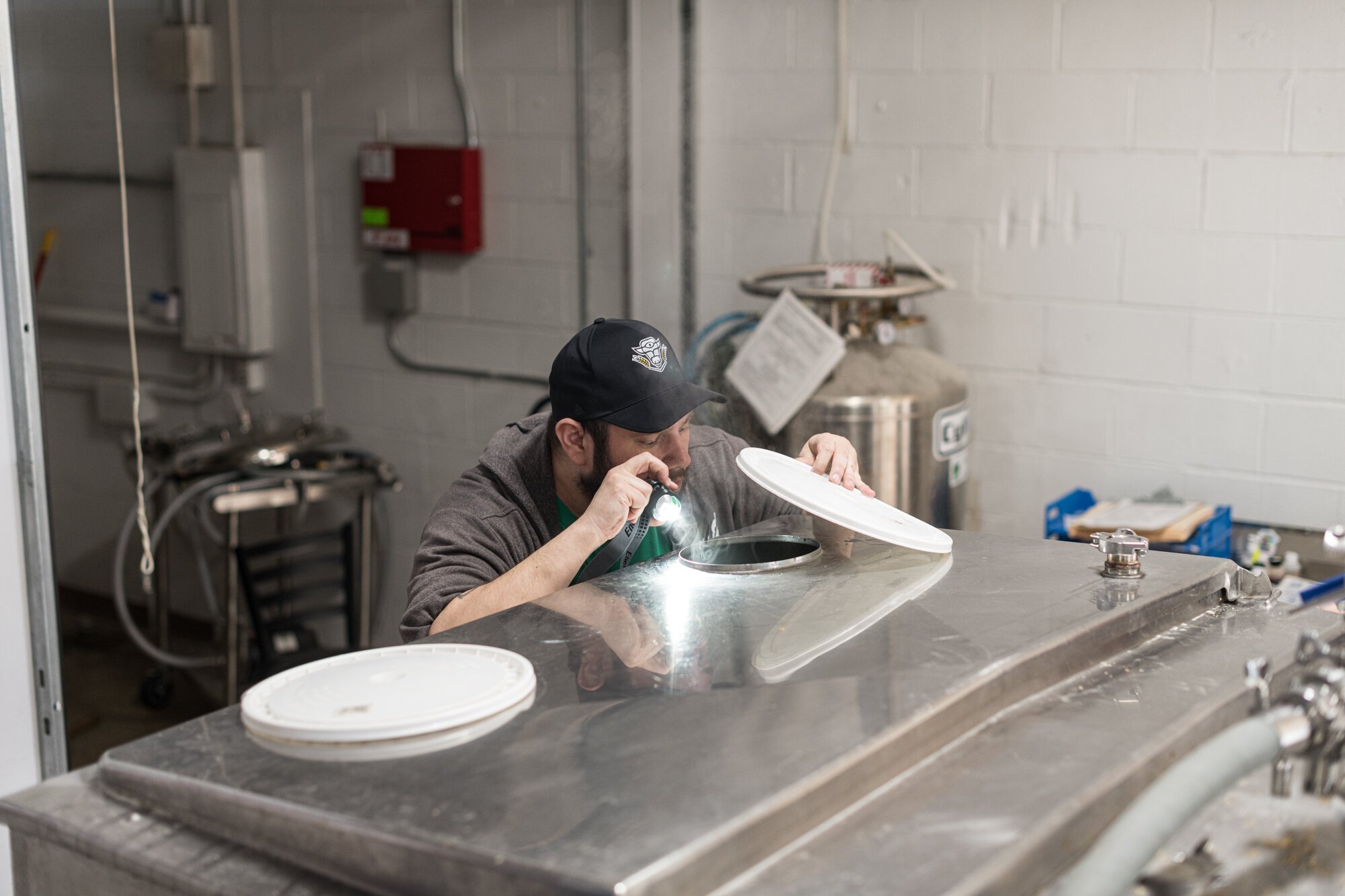 Jim Goodburn, brewer and business partner, checks a tank.
The brewery also includes a restaurant, One Eyed Pete's, with a menu inspired by Grossenbacher's passion for food, especially barbecue. The eclectic menu includes BBQ and brasserie staples like burgers and chicken wings, but offers the unusual: a smoked white fish guacamole and brisket burrito. As much as possible, food is prepared from scratch.
Grossenbacher also intends to give back to the community.
One beer, It Was All A CREAM, a light cream beer, is used as a source to raise donations for community and other organizations. Representing Community Recreation Education Arts Music, a portion of beer sales helped support the family of a local man who died in a work accident and the local newspaper, The Coopersville Observer.
Beginnings
Brewing beer was not a priority when Grossenbacher earned a business and marketing degree from Baker College in Muskegon. He left for Chicago to pursue a career in corporate America, eventually landing a job at Groupon, just as the digital coupon company was taking off. One of Groupon's first recruits, Grossenbacher gained invaluable training working with small businesses, including many restaurants and bars.
While living in Logan Square in Chicago, Grossenbacher began a journey into the world of craft beer, hanging out at Revolution Brewing and learning beer styles, ingredients and brewing from bartenders. He also developed a love for cooking, especially barbecuing, and an interest in sourcing local food.
"Beer and food have become our hobby," he laughs, referring to his wife, Sara, who is from nearby Allendale. "We've had countless four-hour brunches…Chicago has some of the best restaurants in the country. You can't live in Chicago without becoming a foodie.
Grossenbacher returned to Coopersville in 2016 to help out with the family RV business, Fun-N-Sun RV, where he had also worked in college. When a neighboring family property became vacant two years later, Grossenbacher presented the idea of ​​establishing a brewery there to his father. Coincidentally, they were at a beer festival in Ludington at the time – her dad was all for it.
"I never had a passion for recreational vehicles," says Grossenbacher. "If you're not passionate about what you do, your business is going to suffer."
Opening and operating a brewery is neither a cheap nor a quick undertaking. The process took about two years, and Grossenbacher estimates the cost of renovating the old laundromat (which had been leased as a drill shop and restaurants), interior works, brewing and kitchen equipment at between 750,000 $ and $800,000. The renovated building includes the kitchen, dining room, and brewhouse, as well as an unfinished 68-foot by 50-foot space that will eventually be used for events.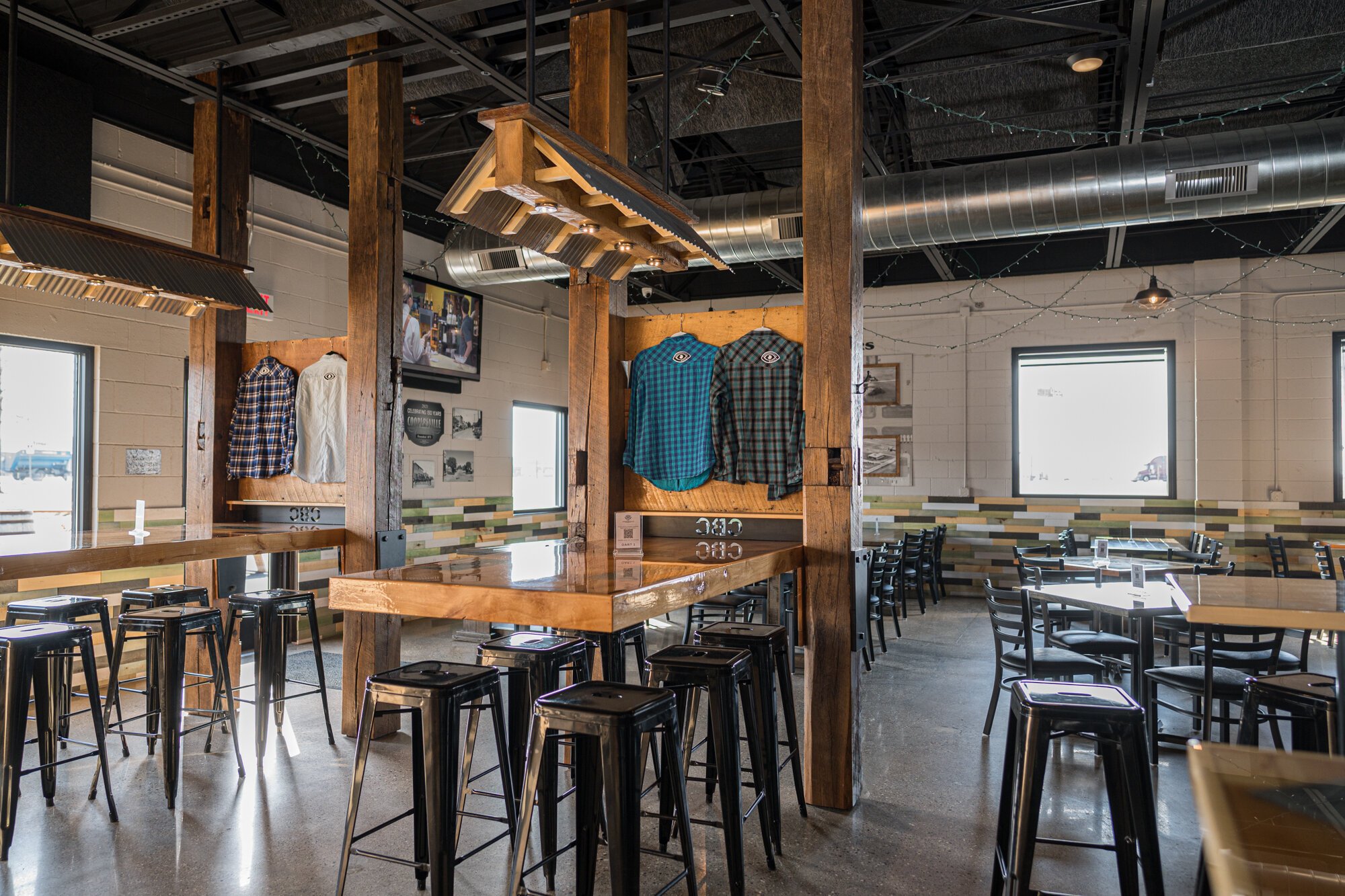 The tables were designed for the brewery. Some contain the logos of local businesses.
To help fund the project, Grossenbacher and his co-founders appealed to local investors. Those who donated $500 were honored with a brick in the brewery, known as "villagers," and are lifetime members of the cup club. Ownership shares were also offered to the workers and designers who built the bar, designed the tables and interior support beams.
In its first eight months of operation, Coopersville brewed about 225 barrels of beer and is on track to produce about 500 barrels next year, a sign of growing business and demand for its beer. The brewery plans to start canning some of its beer for regional distribution this year.
"We have been busy. We had a lot of word of mouth. I'm really lucky that everything fell into place," says Grossenbacher. "The number of people who come are constantly saying 'We're so glad you're here. Coopersville really needed something like this.